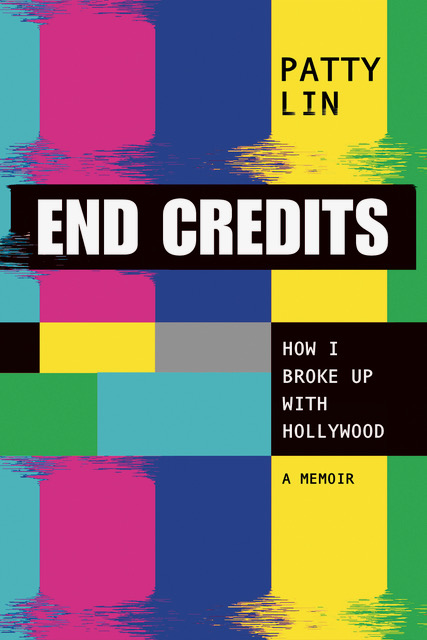 Published by Zibby Books
Available now wherever books are sold!
Amazon | Barnes & Noble | BAM! | Bookshop
The only script you can really write in life is your own.
What if achieving your professional dreams comes at too high a personal cost? That's what screenwriter Patty Lin started to ask herself after years in the cutthroat TV industry. One minute she was a tourist, begging her way into the audience of Late Night with David Letterman. Just a few years later, she was an insider who—through relentless hard work and sacrifice—had earned a seat in the writers' rooms of the hottest TV shows of all time. While writing for Friends, Freaks and Geeks, Desperate Housewives, and Breaking Bad, Patty steeled herself against the indignities of a chaotic, abusive, male-dominated work culture, not just as one of the few women in the room, but the only Asian person.
End Credits: How I Broke Up with Hollywood is a funny, fresh, and eye-opening memoir that will resonate with anyone trying to please their parents, maintain a love life, and find their way in the world—and will inspire countless dreamers to listen to their inner voices and know when it's time to get out.
Praise for End Credits
"A hilarious and brutally honest memoir about life as a writer in Hollywood, which could only be told by someone who escaped."
—Judd Apatow, producer of Girls and Bridesmaids and director of The 40-Year-Old Virgin
"I love Patty Lin. I think she's one of the most talented writers I've ever met. And she's also a great person. True, she does have a few food issues that made ordering lunch each day a bit of an ordeal, but she's got a heart of gold. And we had a blast writing together."
―Paul Feig, creator of Freaks and Geeks and director of Bridesmaids
"The soul of End Credits champions the single most undervalued commodity in all of showbusiness: respect."
—Salon
"Patty Lin is one f*%king brave lady! What do you do when you have what everyone in the world wants, but it's not what's in your heart? It takes courage to trust yourself and walk away. This book is more than just a showbiz memoir, it's the story of a beautiful, creative soul getting back to who she really is."
—Emily Spivey, writer for Saturday Night Live and Parks and Recreation
"A meditation on ambition and pain from a talented, engaging writer."
—Booklist
"Patty Lin has given us more than just a story about walking away from Hollywood to save her soul. This is also a critique of … the ways a first-generation Asian American woman must compromise herself for a laugh-track version of happiness and success…"
—Gina Frangello, author of Blow Your House Down
"A thoughtful rumination on the rewards and challenges of pursuing a creative career."
—Book Reporter
"A wise, funny, whip-smart, and very moving book, End Credits takes us behind the scenes at some of the best-known TV shows of the last twenty-five years. A beautifully written book and a fascinating story. Lin's debut shows brilliance and the promise of more. A stunner."
—Rob Roberge, author of Liar
"End Credits is masterfully written and reminds us that the end of one chapter is the beginning of another."
―Karen Duffy, author of Wise Up
"Patty Lin is a force of nature—I'm not sure there's anything she can't do—and her story will no doubt inspire readers everywhere."
—Susie Luo, author of Paper Names
"A compulsively readable, totally riveting fly-on-the-wall perspective on the cutthroat television industry that manages to be hilarious and heartfelt at the same time. A beautiful memoir—I loved every single moment."
—Alisha Fernandez Miranda, author of My What If Year